Hello Everyone!
I'm spending the day with my husband after a WONDERFUL wedding weekend with a sweet college friend!
Anyhow, it's time to link up for Sunday Social!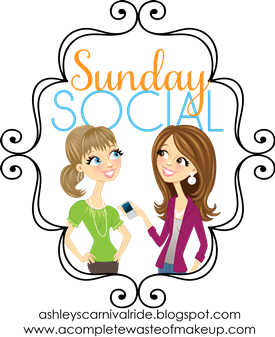 1. Favorite childhood book: I really loved reading the Disney story books- they were basically a summary of the movie in about 80 pages. I read those all the time.
2. Favorite book lately: I'm really enjoying "Sacred Marriage" (which is what we are doing for our life group). Also, the Hunger Games trilogy. I read them earlier in the year, and am still obsessed.
3. Book you wish you could live in: I would want to be Elizabeth in Pride and Prejudice. Every girl needs a Mr. Darcy. ;)
4. If you could be any character from a book who would it be and why? Katniss. Because she kicks butt and takes names. And she wins in the end. So there.
5. Favorite book that was turned into a movie? Probably The Notebook... I think that it was the only book that I didn't like as much as the movie.
6. Favorite magazines? HGTV magazine, Women's Health, and InStyle.
Have a great rest of your weekend!