Hello everyone!
This week's Tuesday's Tunes is a little bit more exciting than usual, because I made a button! Woohoo! So make sure you add the code to your post when you link up!! :)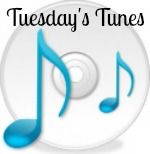 The song this week: "22" by Taylor Swift. Y'all, she keeps getting better and better with each album. The chorus on this song is so catchy, and I haven't been able to stop singing it!!
Please spread the word about this link up- I really think that it has a lot of potential. It's up to you guys to help it grow! ;)
Have an awesome Tuesday!
xoxo
Les